These pens and nibs were kindly sent to me by Kevin of FPRevolution.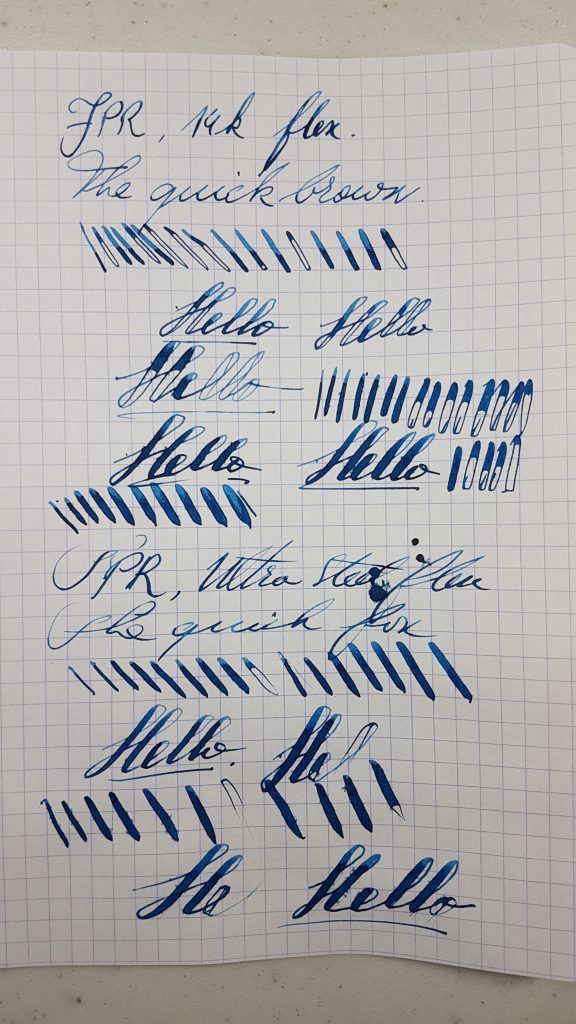 Scott Franklin kindly sent me these new Franklin-Christoph 14k flex and stub-italic gradient (SIG) nibs that they now sell. I was excited to try these out!  Note that the nibs are $115 and $125 respectively, not $150 as I said in the video – my apologies.
Measurements (note that these nibs can be bought on other models than the 66 Stabilis Desk Pen)
Length (capped): 160.2 mm/6.30″
Length (uncapped): 152.9 mm/6.02″
Length (posted): 175.0 mm/6.90″
Diameter (barrel): 8.3 – 14.2 mm/0.33″ – 0.56″
Diameter (section): 10.0 – 12.2 mm/0.39″ – 0.48″
Weight (all): 24 g
Weight (cap): 4 g
Weight (body): 20 g
I picked up this pen at La Couronne du Comte (don't forget that BROWN10 gives you 10% off there!) and I find it a fascinating pen.  The real question, of course, is: is the nib comparable to vintage flex nibs, as Aurora claims?  Watch the full review to find out.

Measurements
Length (capped): 135.8 mm/5.35″
Length (uncapped): 130.4 mm/5.13″
Length (posted): 155.0 mm/6.10″
Diameter (barrel): 11.7 – 14.0 mm/0.46″ – 0.55″
Diameter (section): 10.5 – 12.8 mm/0.37″ – 0.41″
Weight (all): 23 g
Weight (cap): 8 g
Weight (body): 15 g