Le's compare two gorgeous red pens side by side.
This beautiful pen was sold to me by the one and only Sarj Minhas – the One Man Pen Show.
Measurements
Length (capped): 150.0 mm/5.90″
Length (uncapped): 131.1 mm/5.16″
Length (posted): N/A
Diameter (section): 10.7 – 11.8 mm/0.42″ – 0.46″
Diameter (barrel): 11.6 – 14.6 mm/0.45″ – 0.57″
Weight (all): 34 g
Weight (cap): 14 g
Weight (body): 20 g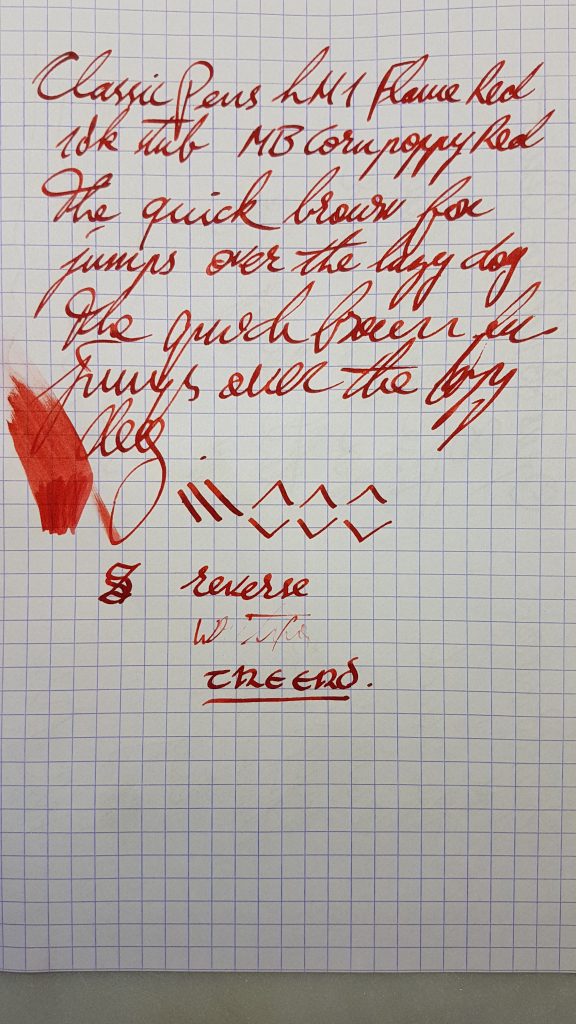 The Classic Pens LM1 Flame Red is a large pen, but it is smaller than the Classic Pens LB5 made from the same diffusion-bonded acrylic, and it was limited to 500 pens (375 fountain pens and 125 roller balls).  I love this pen, and I believe it is a great pen for everyday carry.  I have not yet done a full review on the Classic Pens LM1, but I will record one as soon as I have time.